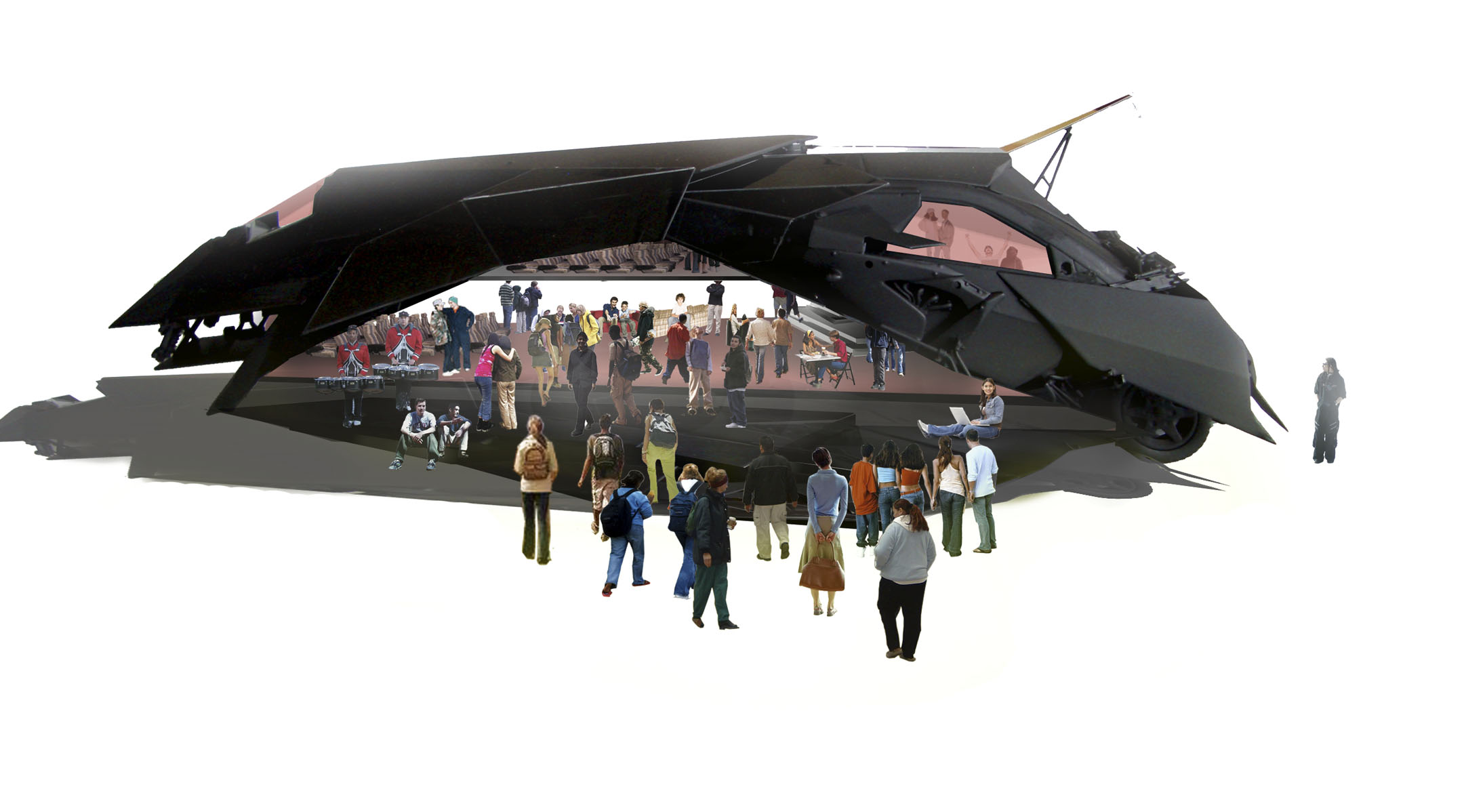 STEALTH BEE BUS
We envision a research and development collaboration between Rutgers Center for Advanced Infrastructure and Transportation (C.A.I.T) and the RL3 - Rutgers Robotics Lab. The University's new transportation system requires a new kind of vehicle. Powered by hydrogen, produced by the campus energy plant and sourced in the Raritan River. With photovoltaic electrical systems, these intelligent buses will identify, describe, and implement a dynamic transportation scheduling system based on the ever changing and complex needs of each student on the multiple campuses of Rutgers. Our imagined new buses - Stealth Bess (in homage to the State Insect - the Honey Bee) - will be ontologically and operationally congruent with the formal logics of swarm intelligences and intelligent learning engines. The Rutgers University Transportation System will become a distributed robotic network of agents that observe, document, share, and analyze both the individual and collective movement dynamic of the Rutgers University student body. The result is a bus system that knows its users' needs before they board.
The vehicles themselves will be comprised of a layered physiologic structure. These layers include P.V. skins, H power, food service, lounge environment, entertainment and interactive information retrieval systems such as translucent screens.
In their stationary mode, the Stealth Bees open on both sides, dissolving the vehicle and transforming it into a social/performance stage with black box flexibility for impromptu events - a roving component of the student activities/service center. Seating would be moveable and adaptable to the event. The Stealth Bees would be rigged with nominal audio, theatrical lighting and power support. In transit, the buses are dynamic and engaging collectors, reservoirs and distributors of energy and people using the converted energies of the sun, the wind, and the river. Coated with electronic real-time and mediated "pollen", the busy Stealth Bees are a kinetic symbol of our transformational vision for the campus - involving sustainability and delight.