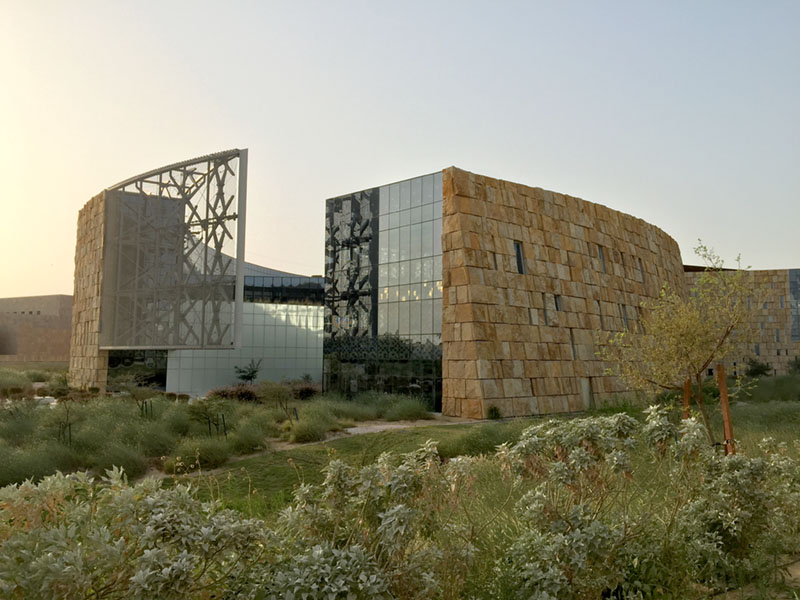 COLLEGE FOR JOURNALISM AND COMMUNICATION
Education City, Doha, Qatar
Completed 2017
Her Highness Sheikha Mozah bint Nasser envisioned Education City as a campus of campuses where she could bring together Universities from around the world to offer degrees in certain curricula to students from region as well as the rest of the world. The campus is organized around a central "Oxygen Park" green-space that allows students to circulate between the various University's buildings. Our project designed to house Northwestern University's College of Journalism and Communication.
The building expresses a diagram of journalistic ideals while representing an abstracted expression of the rugged Qatari landscape in silhouette. The Structure's thickly textured stone walls protect inner courtyards from the harsh desert climate. The building gestures calligraphically, creating a narrative interweaving of courtyards and open atria allowing a spatial progression out through the building, the courtyard and to the Gardens. A matrix of open informal gathering spaces is juxtaposed against soft arcing paths tracing through the building. The progression through the building encourages dialogue, visual eaves dropping, and creates forums for debate, collaboration and mentorship. The project acts as a forum for technological innovation, education and cultural exchange; housing the most technically advanced production facilities available for student use in the world.
The structure is divided into three sections: A curved arc to the east, a crescent to the west, and the north bar. The curved arc contains student gathering and services functions such as lobby, commons, cafeteria and café as well as the library. The student commons is a reconfigurable space with a media wall acting as a lounge where students are able to keep up with current events both inside and outside the building that can host lectures, presentations, and film as well. A projection theatre and black box theater anchor the crescent and are accessible via a ramp/bridge from the entry lobby as well as glazed broadcast studios that allow passers by to see and understand student work. Administrative and faculty offices are located on the upper floors of the crescent. The crescent is punctuated with the arcing Saif Tip; a cantilevered structure clad with media mesh doubles as a protective overhang and media screen broadcasting the mission of Northwestern's program to Oxygen Park as well as the rest of the campus beyond. The Bar is anchored by the conference center, production studios and dining room as well as the college's student outreach program with newsroom, classrooms, and faculty offices on upper levels. The V-VIP suite is located on the fourth level with a private green roof garden and views out towards north campus and Oxygen Park to the south.
With Burns & McDonnell.