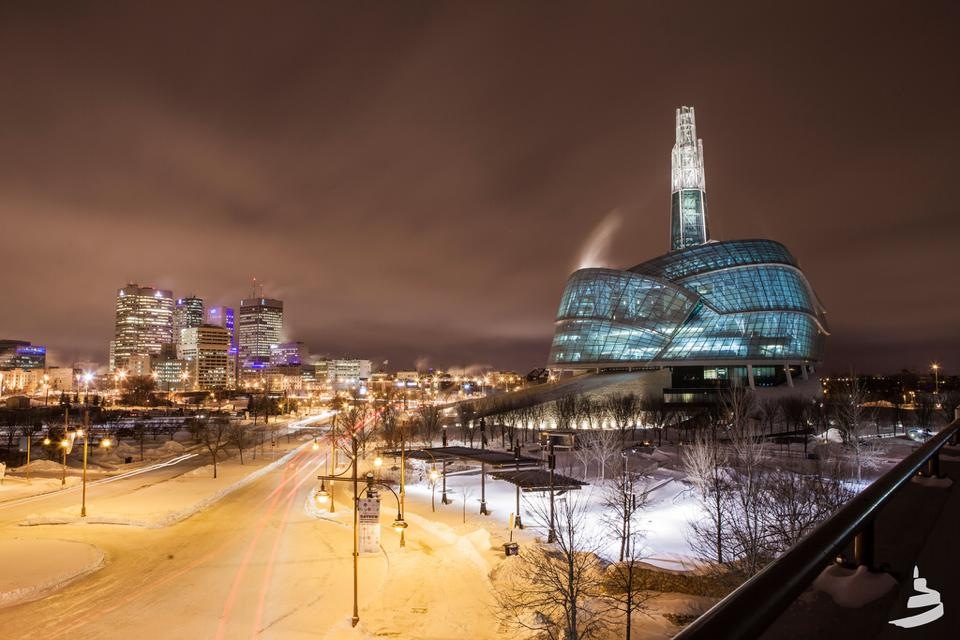 CANADIAN MUSEUM FOR HUMAN RIGHTS
Winnipeg, Manitoba, Canada
In association with Architecture 49
Completed 2014
The Canadian Museum for Human Rights makes visible the fundamental commonality of humankind. Carved into the earth and dissolving into the Winnipeg horizon, the abstract ephemeral wings of a white dove embrace a mythic stone mountain of 450 million-year-old Tyndall limestone. The structure is a timeless landmark for all nations and cultures - a symbolic apparition of ice, clouds and stone set in a field of sweet grass.
The Visitor's entrance between protective stone arms or roots, suggestive of an ancient geological event, symbolically recognizes the earth as the spiritual center for many indigenous cultures. Clutching the earth, the Roots are positioned to block northern and northwestern winds and celebrate the sun, with apertures marking paths for the sun at the equinox and solstice.
The heart of the building, the Great Hall, is carved from the earth evoking the memory of ancient gatherings at the Forks of First Nations peoples, and later, settlers and immigrants. Hovering above the great hall like a mirage is the Garden of Contemplation, Winnipeg's Winter Garden. Within the garden columnar basalt emerges from a timeless granite monolith while water and medicinal plants define the space. The space of the Garden functions as a purifying "lung," reinforcing the fundamental environmental ethic that grounds the building.
The Journey through the sequenced museum galleries culminates in an ascent of the Tower of Hope with panoramic views of sky, city and the natural realm. With glacial timelessness the Tower of Hope is a peaceful beacon for humanity. Symbolic of changes in the physical state, ice, water, and vapor, the tower speaks to the life-affirming hope for positive changes. The Cloud wrapping the Tower houses the back of house support of the Museum. The light filled and buoyant Cloud sits in marked contrast to the Roots and Stone Galleries providing a visible reminder of the power of hope.
Along with exhibition spaces, the program includes office areas, classrooms, museum store, and café concessions. Exterior building materials include local Tyndall limestone, curtain wall glazing system, and cast-in place concrete. All these materials are low maintenance and appropriate for the harsh winter climate of Winnipeg. Major interior materials include limestone wall cladding, basalt paving, alabaster cladding, cast-in place concrete walls, plaster walls and ceilings, and ground concrete floors. The Canadian Museum for Human Rights is LEED® Silver certified. The Auditorium, Great Hall, and Garden of Contemplation are all equipped with services and rigging systems and can be accessed on museum off-hours. Additionally, the museum's education wing has flexible classroom space that can be divided into three classrooms or used as a single studio to create art or hold community workshops.
Awards
Manitoba Premier's Awards for Design Excellence (PADE) Award of Excellence.
2015 Leadership Award for the Advancement of Accessible Environmental Design
2015 Award of Excellence in Accessible Environmental Design
The Chicago Athenaeum: The International Architecture Award for 2016
Canadain National Cultural Tourism Award by Tourism Association of Canada
Named one of the seven best looking buildings in Canada by Traveler Magazine