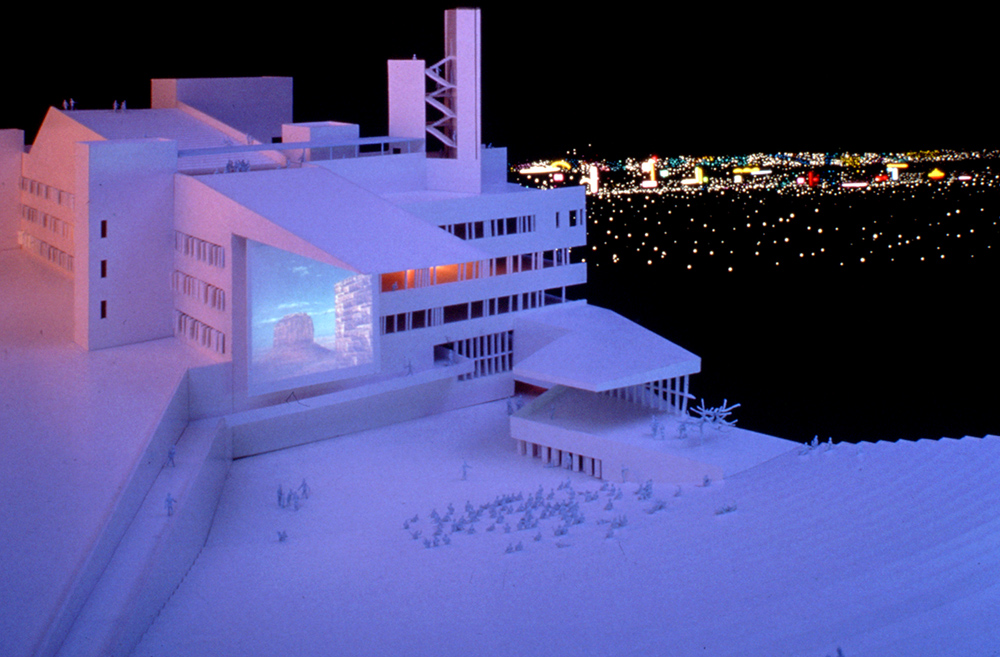 CLARK COUNTY GOVERNMENT CENTER
Las Vegas, Nevada
Design Competition
1992
Rooted in the landscape which surrounds Las Vegas, the Government Center relates to the forces which shaped the City. The Las Vegas legacy of convergent rails, crossroads associated with water that establish human habitation in the desert, informs the public entry sequence and the interaction of visitors with the Government Center. Trails create opportunities for public gathering: a stepped forecourt, an amphitheater, roof gardens and rooftop stepped plaza sets, a stair oriented north leading through a vertical procession to an observation point at its apex, and a cool grotto below.
The design for the Clark County Government Center responds directly to its setting in the Nevada desert. Like geological formations in the desert, the building is created from the collision of the shifting plates, the pressures of artesian waters and the slipping of stratified layers. The Government Center is a creature of the arid climate providing cool oases of shadow and moisture and reflecting the first impulse of man in the desert: going into the earth to find water like the original inhabitants of 'the Meadows.' A matrix of trellises shades the journey down the processional forecourt stair into an earthbound realm where channels of light illuminate the way through the building to a symbolic stone canyon within. The roof gardens allow vistas of the mountains which ring the city and, at night, views to the dazzling illuminations of the Strip.
Traditional materials of the desert, sandstone and copper combine with the concrete, stainless steel and glass, to give the building a powerful presence in the landscape of the city.