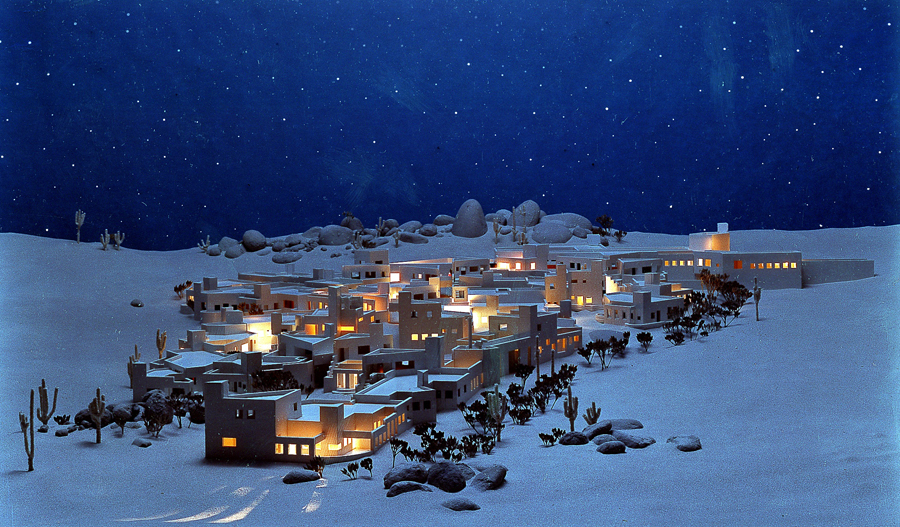 DESERT HIGHLANDS
Pinnacle Peak, Arizona
1983
On 17 acres of sloping high sonoran desert enclosed by Pinnacle Peak, the McDowell Range, and eroded decomposed granite ridges is sited Desert Highlands, a 29-unit attached housing complex. The powerful geologic context evokes an architecture of walls modulated by the magical desert light. The linking of attached housing units entraps outdoor placitas, courts and natural features. These outdoor areas inform the housing precinct with rituals of the desert – sunset viewing, campfires, sun worship, night sky viewing.
The resultant collective from then becomes one large 'house' in the desert with 'rooms' open to the sky. At a distance at night, small fires glow on the rooftops. During the day, mauve, burnt orange, and pink abstractions of the background ridges just above the olive-beige desert floor anchored perimeter. Nuances of view and relationships to courts and natural features such as boulders mould the units to their specific sites, generating 29 different plans ranging from 1,000 to 2,500 square feet.
The placitas and courts are sequentially linked via a recirculating linear system of water which changes from mist to spray to sheet to audible, but unseen as it gradually traverses the project guiding pedestrian circulation from place to place. Beyond the evocative power of water in the desert, the system adds evaporative cooling to the courtyards. Air flow channels ventilate courts and direct the prevailing winds. Deep set punched openings or gilled larger windows reduce solar gain during the summer. Cellular overall planning yields outdoor spaces 'huddled for protection' against sun and blowing sand. Upper level rooms function as wind catchers, inductive air release points, and high vantage points for view and breezes. In pairs they form links between courts. Common upper level pedestrian vantage points are sandwiched between the 'barbed' second-level multi-use rooms and chimneys that emerge from the low silhouette as abstractions of the surrounding natural ridges. The sheltered passages below form tunnels for heightened summer breezes.