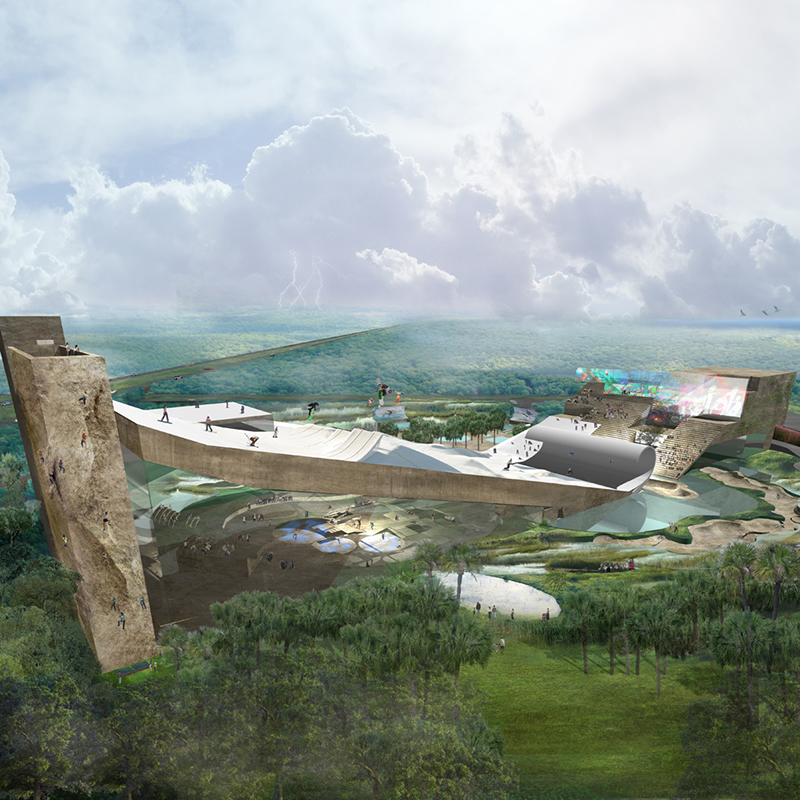 ICE MOUNTAIN
Jacsonville, Florida
2012
Ice Mountain ramp descends from an Ocala Limestone wall to wetlands below. An amphitheater/hotel rises to welcome guests. Skate, bike, water sport and media events punctuate the restored Florida landscape.
The Ice Mountain Ramp faces north to reduce glare for riders and skiers while providing maximum visibility from the freeway approach and adjacent shopping areas. At night the ramp is lit by a suspended mesh of LEDs that allow nighttime operation and makes the ramp a beacon on Jacksonville's horizon. The ramp culminates in the Banzai Pipeline Snow Tube. Boarders and skiers can ride the tube to the return to the lift, cross the bridge to return to the entry lobby or drop in to the skate and water-sports deck. The Sky Café at the top of Ice Mountain has ample area for parents, younger siblings and guests to observe the action on the ramp or view the nearby ocean.
Directly under the snow ramp is the Media City Skate Plaza. This large indoor area of the skate park is sized for large skate and BMX events with area for media and audience. Below the ramp studio lighting is provided for TV production and catwalks crisscross the space to allow media to capture the space from any angle. Large-scale monitors under the ramp allow greater audience participation in events and provide a perfect venue for sponsors advertisements.
Surrounding the ramp to the east and west are an array of Skate and BMX venues linked together like a golf course. Skate venues are woven in with water board sport venues. Skaters and water boarders can move from event to event though a lush shady palm grove. Each event is separate to allow space for an appropriately scaled observation area with a variety of levels of intimacy. Wave machines, a wake boarding area, a recreational blue hole pool along with blue hole spas are provided on the deck. The water venues naturally transition into the site's existing wetlands appearing to grow naturally from the landscape. The water sports deck has ample space for relaxing in the sun and the shade as well as a dining terrace and space for special event tents to be erected.
Hotel guests approach the site from the north and drive directly to the second level porte-cochère. This hotel lobby level houses guest amenities such as restaurant, retail and conference spaces. After check in guests can descend to the podium and the Xero Gravity venues or ascend to the room levels. Hotel rooms either look north to the ramp or east toward the ocean. The ramp side of the hotel is clad with an LED media mesh that can be used to show live action within the park as well as providing an additional medium for sponsors and advertisers. The upper deck of the hotel boasts an infinity edge recreational pool for guests with the "best view in the house" of the action happening within the park.