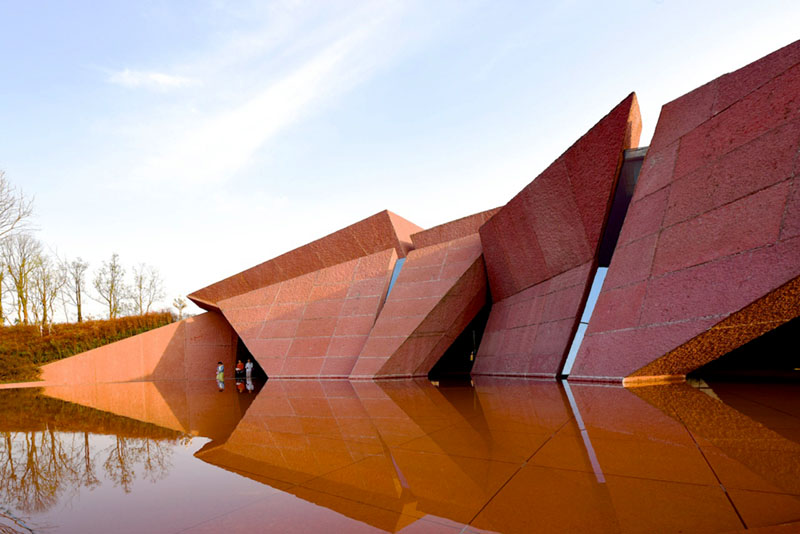 LUXE LAKE NEW TOWN GATEWAY
Chengdu, China
2014
The Luxe Lake Gateway and Art Center is located in Chengdu, China acts the entry building and welcome to the Luxe Lake development – a new town for 100,000 people on the outskirts of Chengdu. The Center will serves as a community center to the new city where visitors can enjoy art, theatre, and dining. Drawing from Chinese culture, Sichuan's landscape, the site's agricultural history as well as the demands of a new city, the Luxe Lake Expo Center is an internal and external descent of galleries, restaurants, meeting rooms, office areas, halls and natural elements that extend from the lake, embrace the existing topography and merge into the hillside, Museum Hill. Abstracting the movement of a dragon, the Expo Center emerges from the hills and snakes his head downwards to meet the lake, with a Performance Hall that opening up onto the lake and a sheer red sandstone wall of café bluffs.
The building encloses 250,000 GSF and varies from one floor to nine at the performance hall tower. The project includes two parking structures and boat docks. Exterior material finishes are exposed bush-hammered concrete, all-glass structural glazing system, regionally sourced granite and bronze cladding. All these materials are low maintenance. Most of the building's roofs are assessable to the public with pathways, plazas and areas of green roof, extending the park surrounding the structure.
Owner/Developer/Builder Chengdu Wide Horizon New Town Development Co., Ltd.