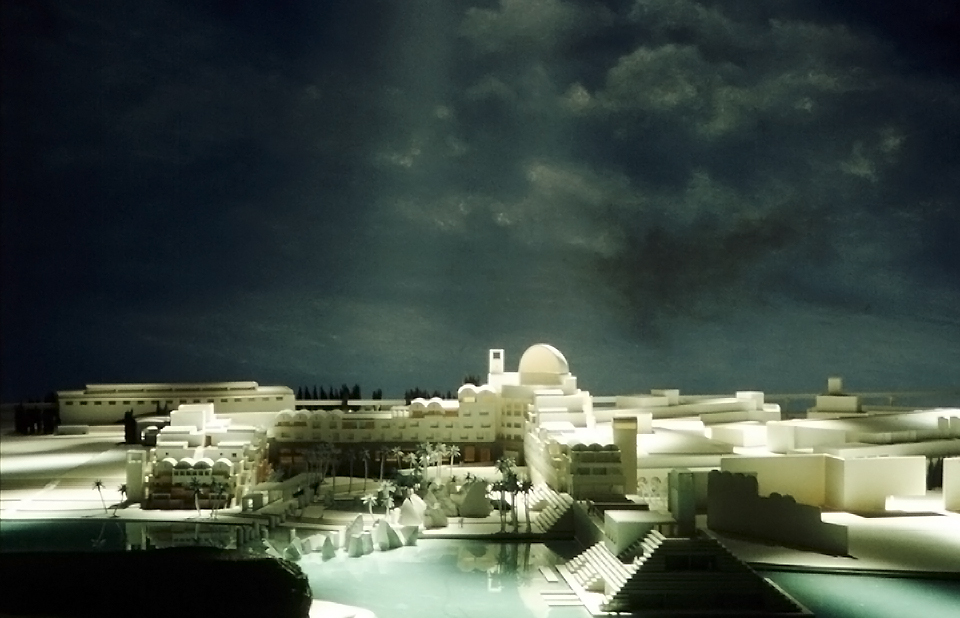 Disney's Mediterranean Hotel
Disney World, Orlando, Florida
Project 1992
This 1,000 room hotel designed for Disney Development Corporation at Walt Disney World, synthesizes the timeless cultural and geographical essence of the Mediterranean rim, while providing clearly organized accommodations for visitors to the Magic Kingdom and Epcot, and efficient, comfortable facilities for conventions and meetings. The complex creates a self-contained urban environment, including several restaurants, and links, by advanced public transport systems, including the monorail, to the other facilities and transport hubs in the area.
The hotel evokes the labyrinthine courtyards and sensual gardens of the Mediterranean, as well as the white architecture of the region, not as literal extrapolations, but as abstract readings. The site for the hotel, along the edge of a lake, is spectacular, and the wings of the building reach out to embrace and capture part of the lake as a swimming area for guests, gesturing toward the Magic Kingdom beyond. Ambiguous architectural fragments scattered through the water suggest a timeless, ancient culture, and reinforce the sense of having entered a fantastic realm removed from ordinary reality. Departing from this central bay are guest rooms which look down to the water to add an element of spectacle and festivity to this inner sanctum.
Other areas of guest rooms surround linked courtyards, also evoking the Mediterranean culture and landscape, while creating uniquely recognizable rendezvous points, and affording shelter and respite during the Florida summer. Breezes from the lake, augmented by water events throughout the complex, provide relief from the heat, and the sound of water creates a soothing backdrop, as well as masking outside noise for the comfort of the hotel guests.
Other environmental responses, such as inductive air flow for cooling, bind the Mediterranean Hotel to its Florida environment, and reduce the need for mechanical air conditioning. At the same time, however, the Hotel opens the way to explore realms of fantasy and delight.
studio to create art or hold community workshops.
With Flatow, Moore, Shaffer, McCabe