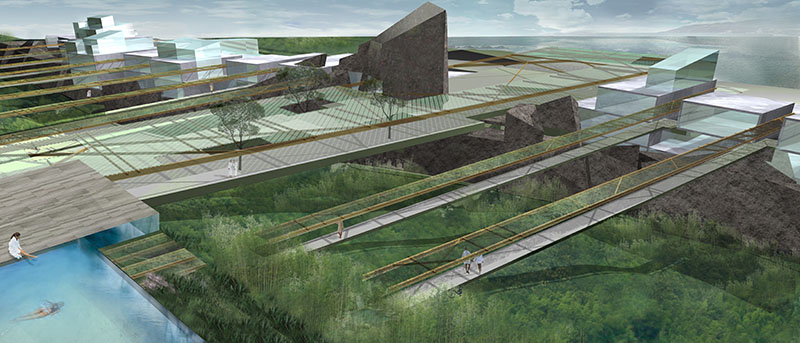 SHANGHAI SCULPTURE PARK HOTEL
Shanghai, China
2015
Located West of Shanghai in the Sheshan National Travel & Holiday Area the Shanghai Sculpture Park Hotel is a figurative waterfall linking Xue Mountain to Moon River. The waterfall is interrupted by green zones, areas of vegetation native to Xue mountain, provide private outdoor terraces to all suites.
The core image is of mountain engaging water. Borrowing from North Song Dinasty's Shan-Shiu hand scrolls with their blurring of focus and perception in nature, the hotel creates a balance between near and far, solid and void, dark and bright, stop and flow.
Guests begin their experience by entering through a sculpted stone wall. The arrival space extends two levels vertically with a group gathering space on its roof. A green zone bridge over the palace wall culminates in a common mountain spa.
The patterned glass of all the suites suggests an abstract waterfall while providing solar control and clear views over the lake and to the Sculpture Park. The hotel has 99 suites designed to rival the best hotels in the world. Private mountain spas tucked into Xue Mountain are reached via green zone trellised bridges providing guests discreet and private mountain access. Palace suites on the top level reach to the sky with crystalline solariums containing meditation and yoga spaces, tea rooms and observatories. The crystals poetically join sky and water while the green ribbon bridges join the site with the mountain.