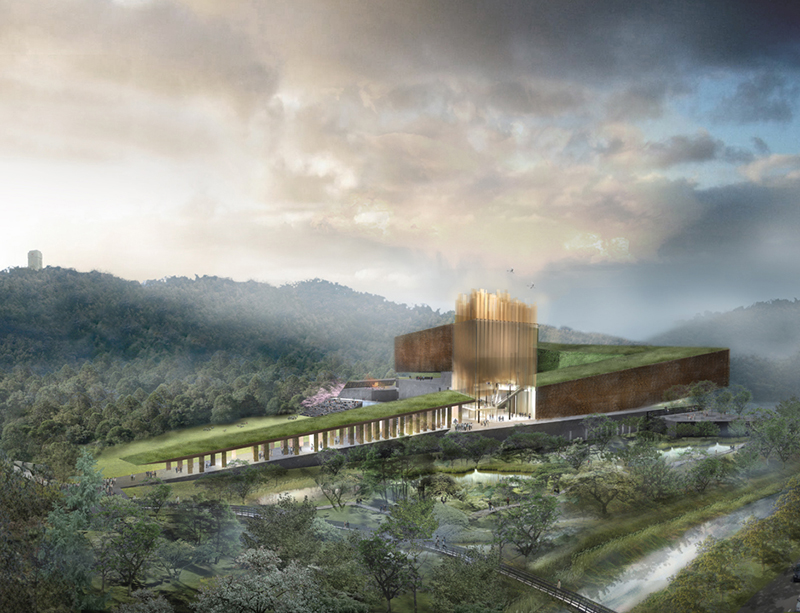 XIANGFAN CITY MUSEUM
Hubei, China
2011
Fingers of evergreen forest reach down from Xian Shan to tie the Xiangfan City Museum and its site to the mountain. A welcoming entry rises out of the mist and gestures back to the ancient City Center. The building's limestone base evokes the old city in a modern urban context. Flat polished stainless steel columns line the entry ramp reflecting visitors and the surrounding landscape in a celebration of procession. Adjacent escalators provide easy access to the main entry for the movement impaired.
The Chinese ideogram for landscape - Shan Shui - is literally translated to "mountain" and "water". This Museum is a landscape, mountain meeting water, symbolic of man's position between heaven and earth. As visitors pass through the five-story 30,000 gross square meter structure they simultaneously experience the exhibitions though multiple vantage points, unfolding an image in their minds, as in a Wang Hui scroll painting. The two-dimensional representations of a hand scroll are extrapolated into a kinesthetic experience.
Upon reaching the top of the entry ramp guests are greeted by Luminous Phoenix Hall. A glowing fire of glass feathers within the Hall represents a prosperous new era for Xiangfan. The glass feathers extend above and below the building envelope capturing and projecting light. At night Luminous Phoenix Hall becomes a glowing beacon on the city's horizon.
The Hall contains ample space for guests to organize themselves and meet their groups. Visitors proceed to the ticketing and information counters and on to the coat and bag check, audio guide checkout and washrooms. The museum shop and café front directly on to the hall so visitors can preview the shop upon entry and have easy access when exiting the building.
The east corner of the hall opens to reveal the first view into the central Lotus Terrace Mountain Gate Court. The lushly planted south facing court is positioned to capture heat in the cooler months while the exhibit spiral above and willow trees provide shading in the summer. Water running over a sloping plane of ancient granite fills the space with sound, sacred lotus float on stepping water terraces with goldfish swimming below. Views from activity terraces are focused to the mountain. The Lotus Terrace Mountain Gate Court contains spaces for ceremonies, performance, outdoor classroom, and film projection.
From Luminous Phoenix Hall guests may circulate independently to the Lotus Terrace Mountain Gate Court or to the building's public zones. To the south of the Hall is the public education zone with the academic auditorium, performance hall and restaurant. The museum will be able to control access to the public education zone independently so that after hours events can take place while the rest of the building is closed.
In Association with Executive Architect China Construction (Shenzhen) Design International Co., Ltd Shanghai Branch