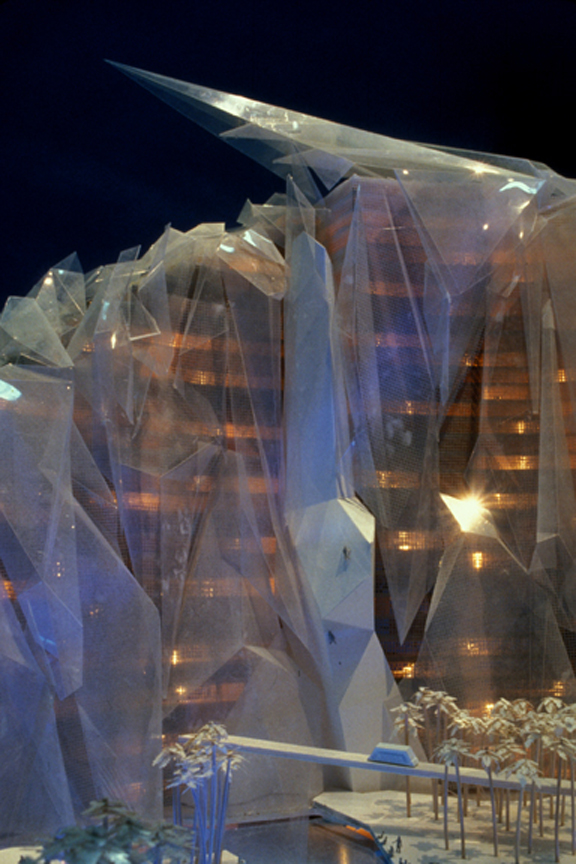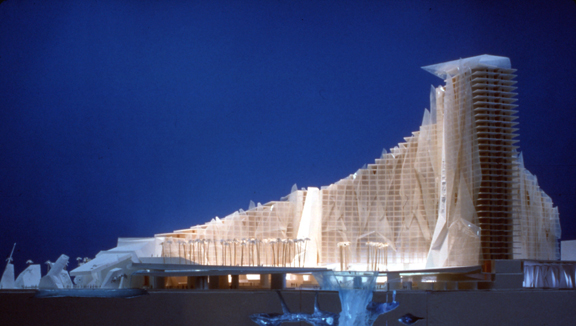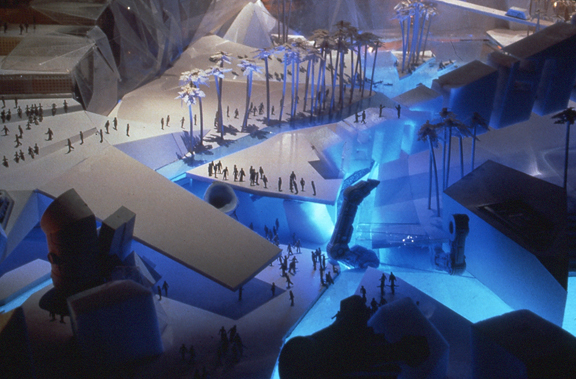 Atlantis Hotel and Casino
Las Vegas, Nevada
1994
The Atlantis Hotel addresses all the requirements of a themed mega-hotel development, yet uses the notion of 'themeing' as a point of departure to explore a multi-faced site of imagination.
The project brief called for a 3,500-room hotel and 130,000-foot-square casino. Support spaces included a 1,200-seat showroom, lounges, six restaurants, 30,000 square feet of retail space, 40,000 square feet of conference center and structured parking for 4,000 cars. Diagrammatically, Atlantis does the exact opposite of the typical casino model. Where the standard casino is windowless so as to control a patron's concept of time, Atlantis was to be filled with light. Where the typical casino theme stops at the gaming floor to avoid distraction from the task at hand, Atlantis was to be a thorough, integrated experience - a 'systematic' theme.
The reference to Plato's Atlantis is evident in the fragments of a subterranean culture which configure the scheme. Light emanates from a realm below, from which the culture erupts. The hotel ascends from a fractured tectonic plateau- inspired by the patterns of shattered glass- metamorphosing from storie and concrete into crystal. Water carves its way through the plateau at the base of the hotel. The water course leads to a ramp, from there one can climb the building's nautilus spiral. A 60-foot-deep vortex of salt water drills into the earth: divers can explore hidden grottoes and a reef. The light that shimmers from the depths of the vortex implies a connection to a power source below. It is perhaps this shimmering pure light which bathes the gaming floor in an otherworldly glow that lifts the dark pastime of gambling to a new plateau, suitable for family consumption.