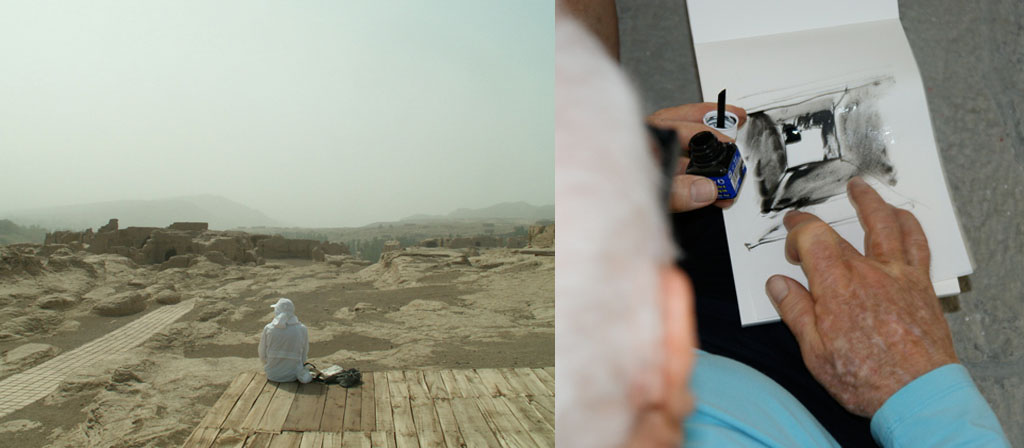 Drawing for me, is both a vehicle for understanding and a gestural act unto itself. Recording an experience via drawing embodies much more than an analytical intention. In fact, my drawings aren't very analytical. When I draw historic buildings, they are inacurate in many ways. My drawings are close, but they aren't about detail or proportion. They are about the spirit of a building or a place, and the spirit embedded in the encounter and its translation. Drawing is a way of taking on a place, absorbing it, immersing myself in it.
While making my early drawings, during the 1960s in particular, I was traveling on my motorcycle with only the bare essentials. I carried only a sketchbook and India Ink, and used objects I found on the site as drawing tools - bird feathers or twigs or popsicle sticks that I sharpened with a knife. Whatever was there, I drew with. An important part of the encounter was acutally finding these artifacts and drawing with them. Later, I added a tiny watercolor kit. I didn't start making brush drawings with pastel until I discovered the brush pen, which is easy to travel with because it involves no clean-up.
I see the making of architecture and traveling as one interwoven experice. Assimilating different places, observing the atmospheres in different locales in the world, both real and imagined, are all journeys. These assimilations and observations accumulate and comprise the foreground for making architecture- begining while I was a student and continuing now.
- Antoine Predock from Architectural Journeys
New Mexico, New York, Ocean Park and Hawaii

2012-2016

China, Nepal, Jerusalem, UAE, Jordan and The Dead Sea

2011

New Zealand, China and New Mexico

2010

Oman, Turkey, Ecuador, China, Tokyo and Abu Dhabi

2009

Casa Malaparte, Italy, India, Bangkok, China, Tokyo and Peru

2008

China, Sri Lanka, England and Rome

2007

Palau, French Polynesia, India, China and Morocco

2006

South Africa, Morocco, Tokyo, China and Austria

2005

China

2004

Palau, French Polynesia, Bora Bora, Australia, Bali and Fiji

2002

Bali, Indonesia, Java, Chile and Australia

2001

Tokyo, Bangkok, Cambodia, Tuscany, Germany, Florence and Capri

2000

| | |
| --- | --- |
| | EGYPT |

| | |
| --- | --- |
| | MEXICO |

| | |
| --- | --- |
| | GREECE AND JERUSALEM |

| | |
| --- | --- |
| | ITALY |

| | |
| --- | --- |
| | PROJECT DRAWINGS |

| | |
| --- | --- |
| | EARLIER JOURNEYS |

| | |
| --- | --- |
| | STUDENT DRAWINGS |