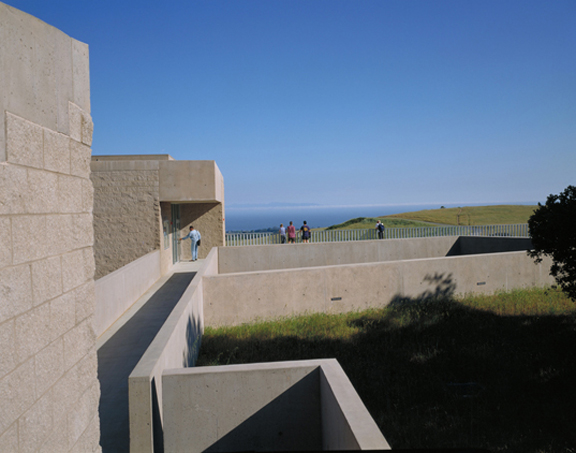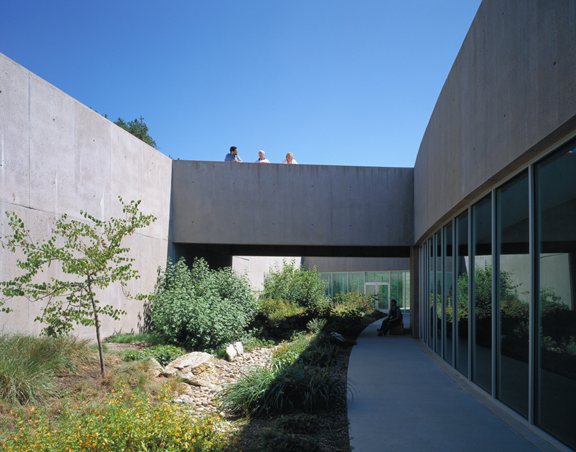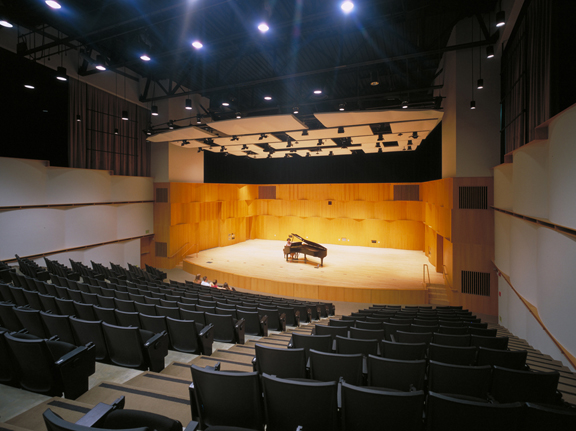 The Music Facility
University of California, Santa Cruz
1996
The University of California Santa Cruz campus is blessed with a magnificent natural setting. Overlooking the City of Santa Cruz and Monterey Bay, the campus through a fascinating series of geological events has evolved into richly varied ecosystems of forest, ravine, and meadow, each expressing its own landforms, vegetation and wildlife. The textural transition from mossy redwood forest to alternately sundrenched or foggy meadow tempered by stately oak. The four acre Music Facility site is bounded to the east by meadow, and to the west by the Performing Arts Complex. Sited to respect the low, grassy hills, the building digs into and rests low on the meadow. To the north and east, bermed walls visually bring the meadow over the building. The large masses of the recital and concert halls are to the southwest where the terrain begins to fall away. As the mass of the building generally retains a low profile, it respects view corridors of the buildings to the north while commanding a sweeping view of Monterey Bay. To fully benefit from this vantage point, the building splits, creating an outdoor area with a view to the meadow and the bay beyond. Where natural views are not possible, internal courtyards bring light to faculty offices and practice rooms.
A solitary oak tree, a promontory on the grassland meadow, focuses the Entry Court. From the Entry Court, students, faculty, and audience members take separate entrances to the 400 seat recital hall, the gamelan pavilion, or the academic facility. The 1500 seat concert hall, to be constructed in the future, has a separate ceremonial approach. Special attention has been given to the highly technical acoustic requirements of the various performance, teaching, office, and practice spaces for the university's Music Department. The "music village" is a series of spaces enhanced by courtyards, "ravines", and exterior decks. These outdoor areas become impromptu meeting places, exterior practice areas, and alternative performance sites.
http://arts.ucsc.edu/musiccenter/index.html
In association with Executive Architect BOORA.