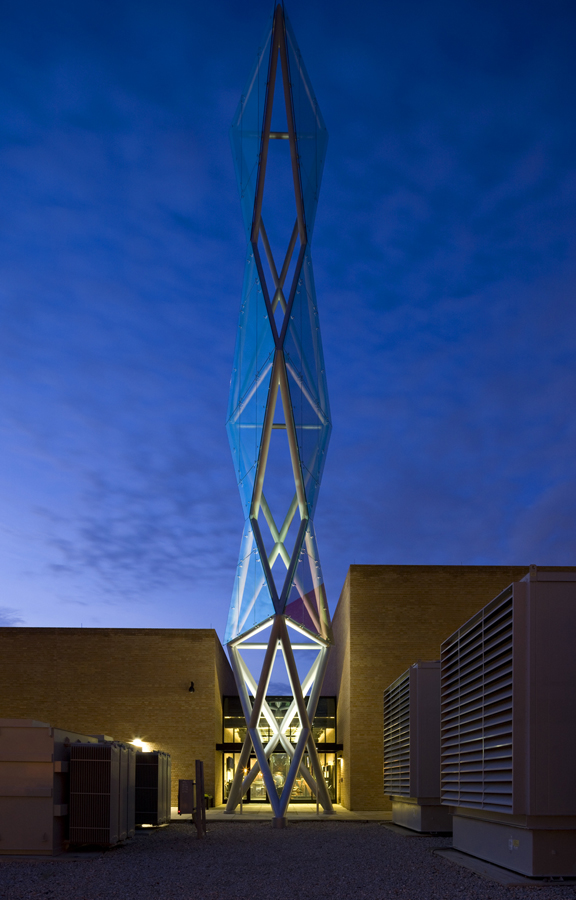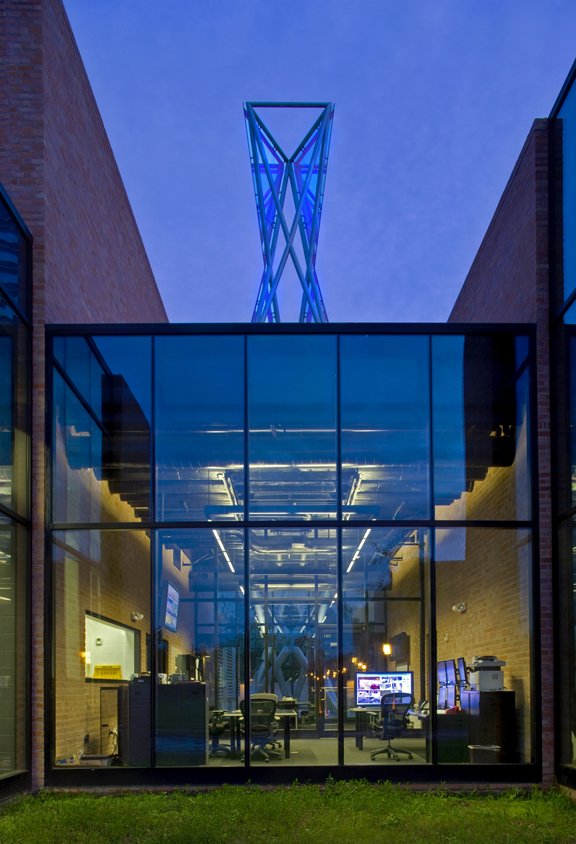 The Rice University South Plant addresses multiple interactions between the last remaining campus natural habitat and the intentions of a master campus plan, the dynamic goals of the University's Rice–Houston engagement / collaborations and the traditional, formal architectural and educational context of the Rice campus. Specifically, the project site demanded a consideration of these multiple variables–Situated at the south edge of campus, a detention-retention area wooded with old growth Post Oak and Cedar Elm and a close adjacency to the newest Residential College, Wiess, and the older Sid Richardson College.
Rice University campus is at the bottom of the Braes Bayou watershed, and like much of Houston, all of Rice's stormwater eventually runs into this bayou. Harris Gully runs under Rice and through the Texas Medical Center area. The Harris Gully, located on the site, now a box culvert, spills water into the bayou. Specific attention was given to the concept of preserving the natural habitat and positioning the facility and yard since construction in this area decreases the amount of water-absorbing ground. The South Plant will be landscaped with native flora and grasses which will encourage wildlife, and also allow the area to continue be used as a teaching tool about Texas ecology.
The facility plant building program components include a Chiller Bay, Boiler Room, Electrical Room, Control Room and Support Space. The Equipment Yard accomodates the Cooling Towers, Electrical Transformers, Emergency Generators and Flue Stack. Against the backdrop of brick and limestone buildings typical of Rice campus, The South Plant exterior respects the historical physical presence of the campus with grounding volumes of brick massing. The Plant design invites visual access to the plant operations, equipment and the production of energy from campus through a series of glass fissures, ground to sky vertical transparent voids that interrupt the overall massing of the building. From the Alumni Drive extension, Brick monoliths stand as sentinels, beginning a fibonaci spiral movement that transforms into a bermed edge, wrapping itself around the boundary of the equipment yard. The spiraling configuration breaks into a vertical planting of jasmine, an aesthetically appealing edge enclosing the equipment yard.

Key to the building design is the centrally positioned control room with intentional glazed facades for visually accessible displays of sophisticated control systems. Projected digital displays onto the campus facing curtain wall invite curiousity of the inherent operations of energy production. Through this transparent node is a visual connection to the boiler exhaust stack, a dynamic, iconic steel armature clad with dichroic glass, stands as a beacon of energy to the campus and broader Houston community. A partial green roof, 4500 SF, demonstrates the hope for future shifts in energy production.
In Association with Executive Architect Morris Architects